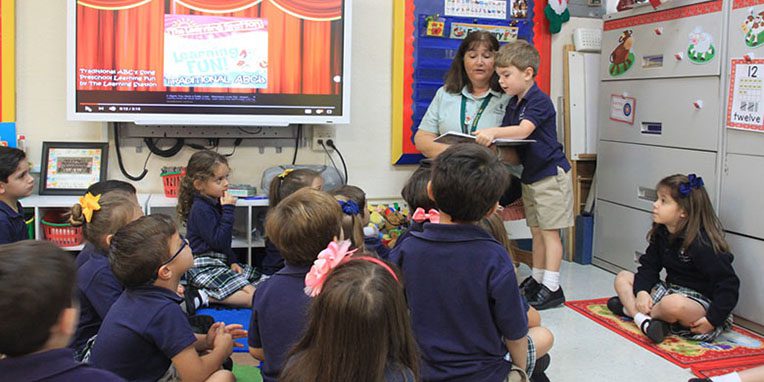 Given the mission of St. Theresa School as an agent of Catholic Christian formation, the school will accept those students whose parents demonstrate an understanding of the specifically Catholic nature of the school and a desire to participate in that mission. Since St. Theresa's is a parish school, it gives preference in application to families who have siblings in the school, who are alumni of the school and who are active members of Little Flower Parish. Some students may not be accepted because the school's educational program and facilities are not able to meet the needs of the child. When the school cannot accept all applicants, those students not accepted are encouraged to enroll in the parish Religious Education classes (CCD). In matters of admission and registration, the Pastor and Principal decide the specific method of selecting students, and their decisions are final.
Entrance Age
According to Archdiocesan policy and the State of Florida, a child entering Pre-K 3 or Pre-K 4 must be 3 or 4 years old respectively on or before September 1st of that year. A child entering Kindergarten must be 5 years old before September 1st of that year. A child entering First Grade must be 6 years old on or before September 1st of that year.
Re-Registration
Re-admission of students each year is not automatic, but the invitation is extended to all those who are progressing in the school program, do not have excessive absences or lateness to school, and whose parents have complied with school policies in a positive manner, attended and taken the children to Mass each week, participated in faithful stewardship toward the parish, and have completed their financial responsibilities to the school.
Non-Discrimination Policy
St. Theresa School admits students of any race, color, sex, national or ethnic origin to all the rights, privileges, programs and activities generally accorded or made available to students at the school. The school does not discriminate on the basis of race, color, sex, or financial status, national or ethic origin, administration of its educational policies, admission policies, scholarship and loan programs or athletic and other school-administered programs.
St. Theresa School also does not discriminate in hiring, promotion, discharge, pay, fringe benefits, job training, classification, referral and other aspects of employment on the basis of race, color, disability, age, sex or national origin.
Withdrawal of Students
The education of a student is a partnership between the parents and the school. Just as the parent has the right to withdraw a child if desired, the school administration reserves the right to require the withdrawal of a student whose behavior is not in keeping with the school's mission and philosophy or if the administration determines that the partnership is irretrievably broken.